Blanchardstown Library was the home to a golf course, a racket ball court, loads of graffiti, and the historically famous house of Ann Frank on Tuesday 14th of November, as virtual reality (VR) enthusiasts helped launch the VR for Libraries project.
VR enthusiasts were joined by TY students from Blakestown Community School for a showcase and demonstration of the new VR headsets. The event was officially launched by the Mayor of Fingal, Cllr. Adrian Henchy, Fingal County Council Chief Executive, AnnMarie Farrelly and County Librarian, Betty Boardman.
VR for Libraries is a collaborative project with Fingal Libraries and Digital Services and sees the introduction of VR technology to Fingal Libraries and access to free 3D modeling gaming software Unity Learn. The pilot project will see twelve devices in five libraries along with access to Unity software through Fingal Library PCs.
Mayor of Fingal, Cllr. Adrian Henchy, embraced the spirit of the event, saying "VR for Libraries is a welcome initiative, the project supports the Council's digital inclusion objectives, giving the public free access to emerging technology and software. The addition of the Unity Learn gaming software means Fingal County Council is helping to establish a whole new generation of digital creators".
County Librarian Betty Boardman said, "Public libraries support people in our communities to navigate the digital world and this involves providing equality of access to innovative technologies. Blanchardstown, Balbriggan, Swords, Malahide and Donabate libraries are participating in the pilot project and will be equipped with twelve devices, with all Fingal libraries having access to the Unity Learn programme".
Eirmersive, Meta and Unity have been an integral part of moving this project forward.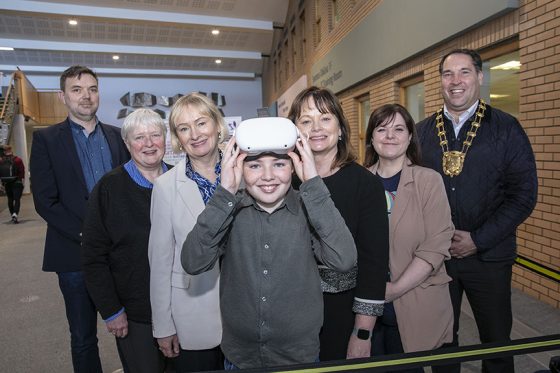 Lisa Deacon, VR for Libraries project lead, noted that "I'd like to thank our creative industry partners who were exceptionally helpful, especially at the start of the project, when I was unsure of the direction.  I couldn't have got this project up and running without the support of the libraries staff, especially the amazing VR Champions." 
Fourteen volunteer VR Champions came on board when the call went out and were all trained by Eirmersive and Lisa. They are ready to facilitate and guide users, promote and look at new ways to use the technology. 
In addition to the technology and the software, Fingal County Council have collated a suite of age-appropriate educational applications for VR users to explore. Content includes: Immersive film Ar ais Arís directed by James Riordan, the Balbriggan Rejuvenation Plan 3D Model, the Swords Cultural Quarter 3D Model, virtual showcase of Ann Frank's house, and KingSpray, graffiti simulation.
Events and showcases are being planned throughout the year long pilot project.  If you would like to take part in these events, contact your local participating library or check out Fingal Libraries social media.
Featured Image: Christian Campbell, Lisa Deacon, Fingal, Mayor of Fingal Adrian Henchy and CE of Fingal AnneMarie Farrelly.
Picture Orla Murray/Coalesce